Turkey goes to the polls in crucial election
Comments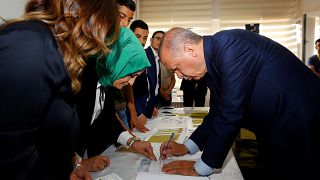 Voting is underway in Turkey's presidential and parliamentary elections. President Erdogan, could see his powers increase significantly if he manages to secure a second five-year term.
He wants to scrap the post of prime minister and weaken parliament, bringing in a new executive presidency instead.
But he faces a serious challenge from Muharrem Ince of the CHP, the Republicans People Party. They accuse Erdogan of trying to force one-man-rule on Turkey by directly appointing top public officials including ministers and vice-presidents.
Another person who could siphon of votes from Erdogan is the only female candidate, Meral Aksener of the lyi, the Good Party. Her party is new but she is experienced; she's a former interior minister and her conservative and nationalist credentials mean she is well-placed to challenge him.
Erdogan, the most popular but also divisive leader in modern Turkish history, moved the elections forward from November 2019, arguing the new powers would better enable him to tackle the nation's mounting economic problems - the lira has lost 20 percent against the dollar this year - and deal with Kurdish rebels in southeast Turkey and in neighbouring Iraq and Syria.
If both the presidential and the parliamentary elections go against Erdogan, Turkey's politics, and possibly the country, could undergo significant change.