Goal celebration or political gesture? FIFA investigates
Comments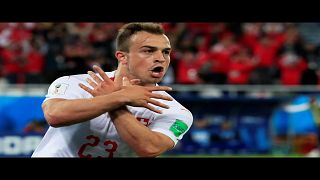 Football's governing body has opened disciplinary proceedings against two Switzerland players over their celebrations during Friday's win over Serbia.
Xherdan Shaqiri and Granit Xhaka, both ethnic Albanians and of Kosovar heritage, celebrated their goals with a gesture imitating the two-headed eagle on the Albanian flag.
Serbia refuses to recognise the independence of its former province Kosovo.
The players denied that their celebrations were political.
Claudio Sulser, a delegate of the Swiss National Team, said: ''It's not something that is black or white. It's a question of interpretation. For me, it is not a political statement, but of course I am very subjective here. We will see the reaction of FIFA.''
FIFA says it's also looking at the behaviour of Serbian fans at the game as well as comments by the Serbian coach who was quoted as sayting the referee should be put on trial in The Hague, home of the United Nations' war crimes tribunal for the former Yugoslavia.