EU leaders meet in Brussels to discuss migrant crisis
Comments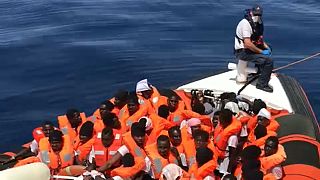 European Union leaders met in Brussels on Sunday to try and bridge their divisions over migration. 
The German Chancellor Angela Merkel asked EU leaders to stop asylum seekers moving freely around the block. 
It comes amid pressure back home, which is threatening Merkel's ruling coalition. 
On arriving at the summit, she said: "One large part of today's discussions will be protecting the outside borders and how we reduce illegal migration to Europe."
Adding that "there will also be a discussion about secondary migration, how do we treat each other fairly inside Schengen, how can we find a reasonable balance."
The number of refugees arriving in the EU has dropped in the last three years, but a recent opinion poll showed that migration was the top concern for EU citizens. 
Out of the 28 EU member states, 16 are participating in Sunday's talks. Many of the leaders of those countries are on the frontline of the crisis, such as Italy and Greece. However, the summit was boycotted by other leaders from Hungary, Poland, Slovakia and the Czech Republic.
The new Italian government is trying to pressure European partners to shoulder more of the burden and has said it would reject any ideas that would see it handle even more people.
Spain's Prime Minister Pedro Sanchez said his country is committed to a joint European response on illegal migration.
Earlier this month Spain offered safe haven to the charity ship Aquarius that was blocked from docking in Italy.
The dramatic standoff exposed the bitter divisions throughout Europe on how best to handle the issue.
At a meeting in Paris on Saturday, Sanchez and the French President Emmanuel Macron said they were in favour of setting up EU-funded reception centres on European soil to process asylum seekers.