Massive crowds at final rallies before Turkish election
Comments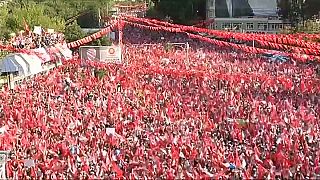 Final rallies have been held as Turkey prepares for landmark presidential and parliamentary elections on Sunday.
The incumbent president - Recep Tayyip Erdogan - appeared to have caught his rivals off guard when he called the election more than a year early.
But in recent weeks a revitalised opposition has narrowed the gap and Erdogan is facing a big challenge from former Physics teacher Muharrem Ince.
He has drawn huge crowds. On Thursday more than 1 million people turned out at a rally for Ince in the coastal city of Izmir.
Ince has turned the election into a two-horse race - although it remains unclear whether he can win over supporters of Erdogan's AK Party.
Whoever wins the presidential race will acquire sweeping new executive powers under constitutional changes that Turkish voters narrowly approved in a referendum last year.