"This ship is only going to see Italy by postcard" - new migrant crisis in the Mediterranean
Comments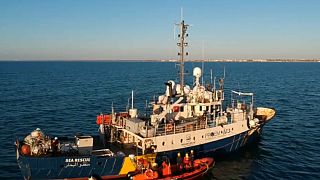 Just days ahead of an EU mini summit on migration, Italy is at the heart of fresh drama in the Mediterranean. Weeks after blocking a rescue ship with more than 600 migrants it is threatening to seize another boat carrying more than 200. The boat in question is called Lifeline, a Dutch-flagged rescue ship.
Italy's Interior Minister Matteo Salvini is taking a hard line. He said: "This ship is only going to see Italy by postcard, not because Matteo Salvini is ugly, bad and selfish, but because if there are rules, they have to respect them and not play with human lives."
On Good Morning Europe, we talk to the charity running the rescue operation.
And European reaction to is analysed by Euronews correspondent Anelise Borges, who last week was the only broadcast journalist on board the Aquarius when it was diverted to Spain.
The UNHCR has issued a new new statement on the situation: "UNHCR, the UN Refugee Agency, is shocked and saddened by reports that some 220 people drowned off Libya in recent days while attempting to cross the Mediterranean Sea to Europe.
"UNHCR is dismayed by the ever-growing number of refugees and migrants losing their lives at sea and is calling for urgent international action to strengthen rescue at sea efforts by all relevant and capable actors, including NGOs and commercial vessels, throughout the Mediterranean. At the same time, access to protection in countries of first asylum should be ensured, as well as alternative pathways for refugees in Libya trying to cross the sea in search of protection and safety. All these steps are crucial to ensure that no more lives are lost at sea."