Italian prime minister will now attend migration mini-summit
Comments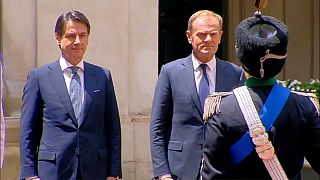 A draft EU statement on immigration will be withdrawn following a "misunderstanding" over the text, Italian Prime Minister Giuseppe Conte has announced on Facebook.
"I just got a call from Chancellor Angela Merkel, worried about the possibility that I could not attend the pre-summit on Sunday in Brussels on immigration," Conte wrote in a post on Thursday.
The draft had contained key elements Merkel needs to placate her rebellious coalition partner, the Bavaria-based Christian Social Union (CSU) and its head, Horst Seehofer, who is also Germany's interior minister.
But Rome objected to provisions that said asylum seekers would have to be returned to the EU country they had first logged their claim in, which often means Italy.
Rome has taken in some 650,000 boat migrants over the past five years, stoking anti-immigration sentiment in Italy and fueling the rise of the far-right League, which forged a coalition government this month.
The EU is desperate for its members state to agree on new policies on immigration, a topic that has so far divided the bloc.
EU states have waged migration wars since arrivals spiked across the Mediterranean in 2015, when more than one million refugees and migrants reached its shores across the Mediterranean. There have been 41,000 sea arrivals so far this year, data shows.
Most of them are between coastal states of arrival like Italy and rich destination states like Germany, where governments have felt heat from voters over managing the new arrivals.
Eastern EU states like Poland and Hungary refuse to host any of these people to alleviate the burden on their most affected peers. They have drawn criticism for not showing solidarity, but have not budged.
This has long caused bad blood between EU states and weakened their trust in one another.
Unless all EU states agree at their looming June 28-29 summit to share out asylum seekers more evenly, Seehofer has threatened to introduce an entry ban on the German border for all those who try to get into the country but have already registered for asylum elsewhere.
Merkel opposes that idea as it would require slapping rigid checks on internal borders inside the EU where people mostly travel around without controls. Many would see reintroducing more border checks as pedalling back on decades of European integration.
But she is unable to break the reluctance of the easterners.
Hence, she has asked other EU states to hold emergency talks this Sunday and agree to do more on migration in the hope that would prove enough to convince Seehofer not to go it alone.