Europeans 'less aware' mobile roaming fees have been scrapped
Comments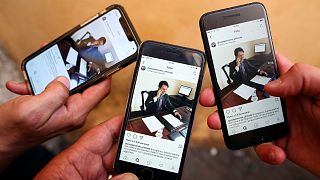 Ignorance of a landmark European Union law that scraps mobile phone roaming charges is on the increase, according to a new study.
It's a year since Brussels abolished the fees in a move that was hailed as a "real European success story".
It means travellers within the EU can call, text and browse the web on mobile devices at the same price they pay at home.
Before the law came into force Europeans had to pay higher fees to use their phones elsewhere in the bloc.
But fewer people are aware of the change a year after it was introduced, a new Eurobarometer poll has revealed.
The study, commissioned by the European Commission, said 71% of respondents were aware of the law in August 2017.
But when pollsters asked people again in May this year, 62% knew about the legislation, which took a 10-year battle to enact.
Romania was the only country in the EU where a majority of respondents said they were unaware roaming charges had been scrapped.
A narrow plurality of those surveyed in France and the UK had knowledge of the law, while awareness was highest in Luxembourg, Austria and Slovenia.
It comes after a German boy, 12, reportedly came home to a €12,500 mobile phone bill after using his device at sea between his homeland and Norway, a non-EU member.