Neighbours and rivals Spain and Portugal prepare for Friday confrontation
Comments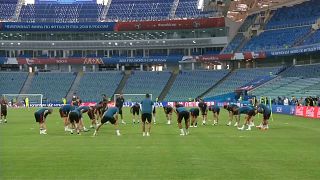 Newly-appointed Fernando Hierro stressed the importance of continuity for Spain on the eve of their World Cup opener with Portugal. Hierro was thrown into the spotlight as their new head coach following the shock departure of Julen Lopetegui, but Hierro says despite the turmoil it's business as usual for the Spanish team.
'"You're going to see the Spanish squad that you're used to," Hierro told reporters. "The Spanish squad that plays really well, that likes to be the protagonist in the match, that likes to play beautifully, and we have a very clear strategy in mind. We are not going to deviate one iota from our footballing concepts and what we've been doing for a long time now. The team has been playing good soccer for a long time."
Meanwhile Portugal will be hoping that their star player Cristiano Ronaldo can help them overcome their neighbours and rivals in Friday's opener.
Portugal are not being touted as winners by the pundits but it would be foolish to write them off.
"We've prepared for this," said head coach Fernando Santos. "We are physically and mentally prepared. The team is confident. We respect all our opponents and with a good team like Spain, even more so."
Group B Portugal sailed through the qualifiers, winning nine of their ten games, but have struggled to get going in big tournaments since the 2008 Euros.