Worsening weather means 'Aquarius' can expect rough journey to Spain
Comments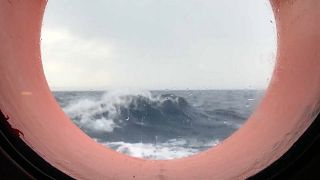 'Aquarius' is currently moving at eight knots towards the Spanish port of Valencia.
Aboard this ship there are 106 people, and these are considered the most vulnerable cases - the children, the women, the families and some of the unaccompanied minors.
Alongside Aquarius there are two other ships transporting the other people who have been rescued this past weekend - the Italian navy and the Italian coastguard are assisting with this transfer.
The trip will be challenging and long, at least 4 days to get to Spain in the teeth of bad weather. We are expecting the weather to turn, the wind has already started to pick up. We are expecting 4-metre waves ahead.
Of course this will test the patience and the endurance of the people aboard Aquarius. These people have already spent a lot of time at sea and tell us that they are looking forward to finally reaching European shores.
Anelise Borges, aboard Aquarius for euronews.