Aid agencies have been warned to evacuate the Yemeni town of Hodeidah
Comments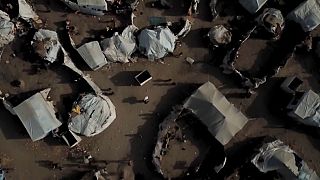 Aid agencies have been warned to evacuate the Yemeni town of Hodeidah.
It comes as diplomatic avenues fail, ahead of an expected battle between Arab coalition and Houthi rebels
For months, the UN has been engaged in a round of "intense" shuttle diplomacy to avert the confrontation which could cost up to 250,000 lives.
U.N. Under Secretary General for Humanitarian Affairs, Mark Lowcock says, "While the U.N. and other humanitarian agencies are re-configuring their presence it's also our planned intention though to stay and deliver. We have dozens of UN. staff still in Hodeidah."
The Red Sea port of Hodeidah is a lifeline for millions of people, handling most of Yemen's commercial imports and humanitarian aid supplies.
Heavy fighting in recent days between Iranian-backed Houthi rebels and the Saudi-led coalition that backs the exiled Yemeni government has killed more than 600 people.
Some cynics have warned that with all eyes on the Singapore summit an assault on the town could start within days.