Lufthansa plane damaged in fire
Comments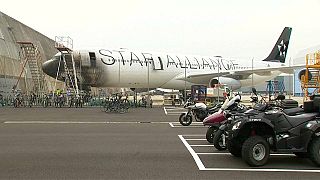 A German passenger plane was badly damaged when a tow truck caught fire at Frankfurt airport on Monday.
There were no passengers or crew on board at the time but 10 people including ground crew and firefighters needed medical treatment.
The fire occurred while the truck was repositioning the Lufthansa Airbus A340-300.
The plane, which had been due to fly to Philadelphia, was heavily damaged, Lufthansa said in a statement.
A replacement plane was brought in and the flight left about two hours behind schedule.
It's not known what caused the tow truck to catch fire.