A teacher is our second #Europeanhero
Comments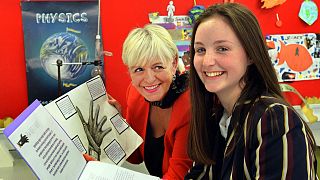 Her pupils are blazing a trail across Europe: Elaine Manton is STEM (science, technology, engineering and mathematics) Coordinator at Loreto Grammar School for Girls in Manchester in the UK. Her dynamic, open and cross-curricular approach has inspired teenage girls to enter – and win – countless competitions with innovations that would make most fully-trained adult brains boggle.
"The big problem in this country is not innovation but taking innovation to reality ... the girls at Loreto have that rare knack of applying ideas to the market place."

Parent of prize-winning pupil, Flora Beazley
One of her most recent success stories comes in the form of Emma Doherty, who has designed a "Speaking Signs" glove, which can detect sign language using motion sensors and translate it into the written word, helping reduce the social isolation of deafness. The idea won the AVEVA Innovation in Technology award at the UK Big Bang Fair and has attracted funding to continue its development. Emma is currently preparing for her GCSEs, the national exams sat by 16-year-olds.
Impossible?
How on earth could this happen within the walls of a secondary school?
Under Elaine Manton's leadership, STEM lessons at the school have been radically overhauled to foster a delight in innovation. "The pupils work in groups of four, which reflect what it's like to work in the real world," she explains: "it's project-based learning." Loreto Grammar also has an entire ecosystem of "enrichment clubs" based on maths, engineering, and even robotics. "We don't hesitate to look outside the school to give the girls the expert input they need," explains Manton.
It's not just the structure of the STEM curriculum that drives the success, however, it's the approach. "We try not to put restrictions on their ideas. All their ideas are about improving people's lives, not making millions, and this really drives them to be creative," Manton says.
#notjustforboys
Elaine Manton qualified as a teacher in 1987, but she remains at the cutting edge, continually refreshing her ideas and seeking inspiration from the vast network of other European STEM teachers she has built up. "Perhaps it sounds corny, but I've always wanted to make a difference," she says. "I wanted to leave a legacy, and I'm so proud that I am still getting so many girls engaged in a subject that was not traditionally seen as their domain".
She intends to continue underlining the truth of the hashtag that adorns all the walls of her classroom: #notjustforboys