Italy's new government: Who's who?
Comments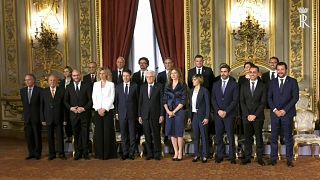 After a long time in the witing Italy finally has new government.
Giuseppe Conti's predicted success in Wednesday's confidence vote meant he could be sworn in and try to carry out the government's commitment to bringing radical change to Italy.
It has taken weeks to put together the cabinet team, made up of ministers from the Five Star Movement and the League parties.
Leader of the Five Star movement, Luigi Di Maio, becomes Deputy Prime Minister and Labour Minister.
League Party, leader Matteo Salvini, who is also a Deputy Prime Minister takes on the role of Interior Minister.
Paolo Savona becomes European Affairs Minister. He was originally nominated as Finance Minister but had his nomination turned down by President Mattarella due to his anti-euro beliefs.
The new Finance Minister is Giovanni Tria who says Italy could fund a major public works programme without it affecting the huge national debt.
Enzo Moavero Milanesi takes on the role of Foreign Affairs Minister which is being seen as a move to appease money markets and the EU. He is a seasoned politician with a career stretching back more than 40 years. He is also a law professor and an EU official.
Defence goes to Elisabetta Trenta, a specialist in the field who has been on military missions in Iraq and Lebanon.
The Italian Government team is together - and now starts the game of running Italy.