Argentina cancels World Cup friendly against Israel
Comments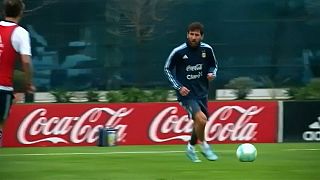 Argentina's national side have cancelled their football World Cup friendly with Israel due to political tensions in Gaza.
The Israeli Embassy in Buenos Aires announced the cancellation on Twitter, highlighting the violent threats made against Argentina's star player Lionel Messi.
Argentina forward Gonzalo Higuain told ESPN: "In the end, they've done right thing, and this is behind us."
"Health and common sense come first. We felt that it wasn't right to go."
With just a week to go before the World Cup, Argentina's final warm-up game was due to be played in West Jerusalem on Saturday.
It would have been just a few miles away from where 120 Palestinians were killed by Israeli forces during recent protests.
The Palestinians had accused Israel of using the high-profile fixture to underpin their disputed claim to the holy city.
On Tuesday, Palestinians were filmed burning replica shirts of Messi after a request made by their Head of FA Jibril Rajoub.
Today, Israel has blamed the Palestinians for pressurising Argentina into cancelling the match.