Slovenia faces coalition tussle after anti-immigrant party tops vote
Comments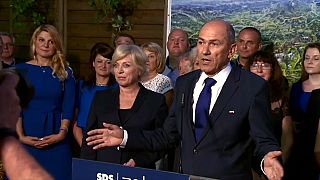 Slovenia faces a battle to form a coalition government after an anti-immigration opposition party came top in Sunday's parliamentary election. With nearly all votes counted, the Slovenia Democratic Party (SDS) has 25% of the vote amid a fragmented political landscape.
The right-wing party of former prime minister Janez Jansa is estimated to take 25 seats in the 90-member National Assembly. Turnout is put at around 52%, only just above a record low in 2014.
"(Our party) puts Slovenia, Slovenians first," Jansa said after the early results came out.
The SDS may struggle to build a coalition as its hardline stance on immigration has left it short of potential coalition partners. Slovenia's President Borut Pahor has said he will give the party with the most parliamentary seats the first shot.
"The Slovenian Democratic Party is open for cooperation. The time ahead will need cooperation. Our door is open when it comes to dialogue and cooperation as has always been the case when the Slovenian Democratic Party formed the government," said Jansa.
However, he will not be helped by the second-placed List of Marjan Sarec (LMS), which won just over 12% of the vote and 13 seats.
"I congratulate the winner and wish him luck in assembling the government. However, we will stay true to what we said during the campaign: we will not join any government with the SDS," said Sarec, the centrist mayor of Kamnik.
The only party that has so far said it will work with the SDS is the centre-right Nova Slovenija (NSi), which won 7.1% of the vote. But the SDS would need another 9 or 10 MPs to have a majority.
'Stop migrants'
Migration formed a central role in the election campaign. Janez Jansa enlisted the support of Viktor Orban, prime minister of neighbouring Hungary whose clampdown on migrants and self-proclaimed "illiberal democracy" has put his country into conflict with the European Union.
There were echoes of Orban's rhetoric and tactics in Slovenia, where one SDS poster depicted migrants and refugees behind a 'Stop' sign.
The largely alpine nation was affected by the 2015 migration crisis when Hungary closed its borders. Hundreds of thousands of people passed through Slovenia but few stayed, and since then the former Yugoslav republic has accepted only a minority of asylum seekers.
Jansa has vowed to work to improve conditions in countries where migrants come from, to cut taxes and root out remnants of corruption from the communist era. However, the SDS has been hit by its own scandal recently over a loan it was forced to return.
Jansa spent six months in prison in 2014 following a bribery conviction, but was freed after the Supreme Court ordered a retrial that didn't happen because a 10-year time limit expired. He has denied wrongdoing.
'Everything and the moon'
The election was called in March after centre-left Prime Minister Miro Cerar resigned. His Modern Centre Party (CMC) trailed in fourth on Sunday with under 10% of the vote, and only a projected 10 seats in parliament.
The campaign was criticised, with one observer accusing parties of "promising everything and the moon" to voters.
"No commitment is too off-the-rails, no slogan is beyond the pale and no lie too bald-faced to serve the purpose. Sometimes it feels as if everyone involved just went off the rocker a bit," wrote Slovenian commentator Aljaz Pengov.
While Janez Jansa's SDS party looks set to struggle to form a coalition, so too may its rivals. The election saw disillusionment with the last coalition's ruling liberal and left-wing parties.
Analysts say predicting what the future government will look like is hard and some believe another election cannot be ruled out.