China threatens to abandon trade deal if US imposes tariffs
Comments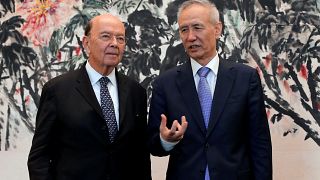 China is warning the U.S. that it will not increase the amount of American goods it imports if its own exports are sanctioned.
Beijing was responding to threats by President Trump to impose tariffs on more than €42 billion of Chinese exports.
Last month China promised it would import more from the U.S. in a bid to narrow a trade surplus of €321 billion.
But as U.S. Commerce Secretary Wilbur Ross held talks with Chinese negotiators in Beijing, Chinese officials say they will refuse to honour the agreement if they're faced with tariffs on their exports.
It comes at the end of a week in which the E.U., Canada and Mexico also threatened retaliation if they were faced with trade tariffs by the U.S.