Anti-immigration party set to gain most votes in Slovenia
Comments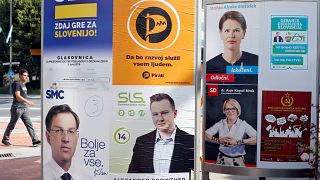 The anti-immigrant Slovenian Democratic Party looks set to win the most votes in Sunday's election in the country.
Led by Janez Janša, it has seen an increase in support since nearly half a million migrants crossed Slovenia to Western Europe two years ago.
He is competing against Miro Cerar of the centre-left Modern Centre Party, who was prime minister from 2014 until March this year and Marjan Šarec, an independent candidate who was elected Mayor of Kamnik in 2014.
Political analysts such as Miha Kovac suggest that Janša has employed tactics from other world leaders.
"This election campaign was actually really brilliant for Slovenian standards," he explained.
"They (SDS) copied many things which were done by Fidesz in Hungary, many things which were done by American ultra-conservative Republicans in their election campaign. They mixed all these into one and they really performed very well."
Recent polls put Janša on just over 25 percent, with Šarec's party second on just under 14 percent.
But, a lack of potential coalition partners could keep Slovenian Democratic Party out of office.