Canada will challenge US tariffs under NAFTA and WTO: Foreign Minister
Comments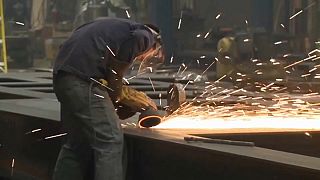 Canada will impose retaliatory tariffs on US exports and challenge US tariffs under both North American Free Trade Agreement (NAFTA) and the World Trade Organisation (WTO), said Canadian Foreign Minister Chrystia Freeland at a press conference on Thursday. 
The US decided to slap tariffs on the EU, Canada and Mexico for steel and aluminium imports - sparking a potential trade war.
US Commerce Secretary Wilbur Ross said a 25% tariff would apply to steel imports from the trio and 10% for aluminum.
The White House gave the three a 30-day reprieve in order to negotiate deals with the Trump administration to avoid the taxes.
At the time of the reprieve Brussels said as a "longstanding partner and friend of the US" it would not " negotiate under threat".
EU chief Jean-Claude Juncker, reacting to Thursday's announcement, said: "This is protectionism, pure and simple.
"Over the past months we have continuously engaged with the US at all possible levels to jointly address the problem of overcapacity in the steel sector.
"Overcapacity remains at the heart of the problem and the EU is not the source of but on the contrary equally hurt by it.
"That is why we are determined to work towards structural solutions together with our partners. We have also consistently indicated our openness to discussing ways to improve bilateral trade relations with the US but have made it clear that the EU will not negotiate under threat.
"By targeting those who are not responsible for overcapacities, the US is playing into the hands of those who are responsible for the problem.
"The US now leaves us with no choice but to proceed with a WTO dispute settlement case and with the imposition of additional duties on a number of imports from the US. We will defend the union's interests, in full compliance with international trade law."
Cecilia Malmström, the EU's trade commissioner, said the bloc's response would be "proportionate and in accordance with WTO rules".
French President Emmanuel Macron said the decision by the US to impose tariffs on European metals exports is illegal and a mistake, which could cost discussions on other issues. Macron said he would talk to Trump about the issue. 
"Economic nationalism leads to war," said Macron.
Manfred Weber, an ally of German Chancellor Angela Merkel, said on Twitter: "We will have no choice but to defend European industry, jobs and interests. We will not accept this highly regrettable decision without reacting."