Maria Efimova speaks out at whistleblower conference
Comments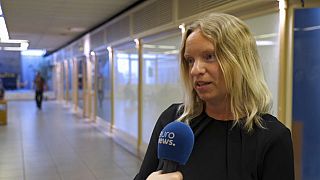 Maria Efimova was Daphne Caruana Galizia's source. Caruana Galizia is the investigative journalist who was assassinated in a car bomb in Malta last October. The reporter used the Panama Papers to expose alleged links to offshore tax havens of Malta's leadership, including the island's Prime Minister Joseph Muscat. Efimova talked to euronews.
"In judicial investigations for political figures in Malta, there were two witnesses," Efimova says. "One witness unfortunately was murdered last October and the other is me. That is why I do not think Mr Bonići [Malta's Minister of Justice] is right when he says that Malta is a safe place for me.
She adds: "My motive is to show these people; who feel powerfull, who possess all the wealth and believe they can do whatever they want, is that things are not like that. There is always God to judge them. God is not coming on earth Himself to punish those who do bad thing, He sends people (to punish those who do wrong).
Russian whistleblower Maria Efimova has alleged that Pilatus bank owner Ali Sadr Hashem-nejad is behind the threats she started to receive over the weekend.
On Twitter, Efmova said that "several hours" after Hasheminejad was granted bail in the US, she started receiving threats and added that would file a report with Greek police.
Efimova is waiting for a final verdict from Greece on whether she will be extradited to Malta or not. The decision of the Supreme Court is expected on June 14th. She says Greece is the only country where she feels safe.