Di Maio serves a slice of pizza populism to hit back at EU's Oettinger
Comments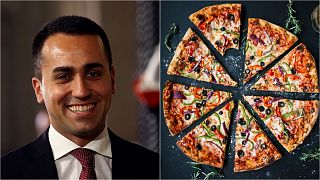 When Italian populist Luigi Di Maio put out a social media post of him eating a pizza, some might have expected him to use Italy's best-known food export as an analogy for who one of Europe's most indebted countries owes money to.
Instead, it was a jab at EU commissioner Günther Oettinger, who sparked an anti-Brussels and anti-German reaction in Italy by suggesting in an interview with Deutsche Welle that Italians should not vote for populists.
Di Maio is leader of the 5-Star Movement that emerged as the biggest single party from Italy's election in early March.
His post, which was liked by more than a 100,000 users on Facebook, read: "Here we are in Naples, Oettinger can only dream about this [pizza]."
Oettinger sparked anger by saying: "My worry, my expectation, is that the coming weeks will show that the markets, government bonds, Italy's economy, could be so badly hit that these could send a signal to voters not to elect populists from the left or right.
"This was linked to the possible formation of a government. I can only hope that this plays a role in the election campaign by being a signal not to hand governing responsibilities to the populists."
He later apologised and said he had not meant to be disrespectful.
Di Maio's post is part of a trend whereby populist leaders in Italy are bypassing traditional media and reaching millions of people by posting directly to social networks.
Both Di Maio and other populist Matteo Salvini, leader of League, updated their followers on Facebook after talks with Italy's president.
Italy has been without a government since March 4 as populists Five Star and League tried to form a coalition.
They looked to have reached a deal, nominating political unknown Giuseppe Conte to be Italy's next prime minister.
But that bid to form a government fell apart after Italy's president rejected its bid to have a Eurosceptic as economy minister.
This development led to accusations the markets where choosing Italy's next government, rather than its voters.