Budapest to ban Segways in city centre
Comments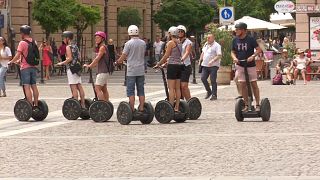 Authorities in the Hungarian capital Budapest are to follow some other European cities by banning Segways in the city centre"s pedestrian zones.
The ban will take effect from the middle of June and will also cover electric bikes, rickshaws and some other types of two-wheeled transport.
"In Prague, the use of Segways has been banned," explained Segway tourist guide Szabolcs Egyeki, "so several Prague companies moved their activities to Budapest, so the number of Segways in Budapest increased significantly. Now it is time for the local government to regulate."
The Segway tour operators argue that the devices offer tourists a great sight-seeing experience. They say they pay taxes and create jobs. but critics say there are too many and that they pose a danger to pedestrians.
"They are too quiet but they go very fast, so walkers don't notice them," said the Mayor of the central district Peter Sot. "We can see in the streets often people riding Segways without any experience, for the first time in their lives, but these machines weigh 30-40 kg and are driven by people with no experience of using them."