Paris police don pyjamas for protest over working conditions
Comments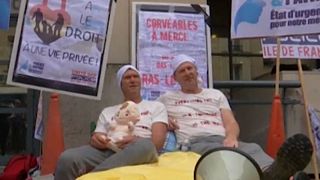 More than 100 police officers gathered in Paris on Tuesday to demand better working conditions, with some donning pyjamas in an effort to show that their long hours would soon force them to sleep at the station.
Among the issues cited by demonstrators were unpaid overtime, being called into work on days off, and long hours for 10-day stretches.
The policemen of the Paris region have had enough, said Rocco Contento, a member of a police union.
Contento claimed the increasing frequency of terrorist threats in France was to blame for the exhausting schedules of police officers.