France offers fast-track citizenship for Mali 'Spider-man' hero
Comments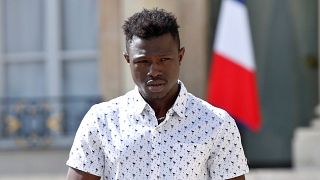 "I just didn't have time to think, I ran across the road to go and save him. And then I saved him."
With simple words, a visibly nervous Mamoudou Gassama described the heroic act that forever changed his life.
Not even in his wildest dreams did the young Malian national – who crossed Niger, Burkina-Faso and Libya to reach Europe – ever imagine he would be received at the French presidential palace.
Emmanuel Macron congratulated Gassama for "an exceptional act" and said France would give him a job in the emergency services.
"We'll obviously be setting all your papers straight and if you wish it, we will start the process of naturalization so that you can become French," he added.
"I did it because it was a child," French newspaper Le Parisien quoted the 22-year-old as saying. "I climbed.. Thank God I saved him. I am happy... thank you."
But it is France that wants to thank Gassama. The undocumented migrant will be given French papers.
and a spell of community service work with Paris' firefighter brigade. All that thanks to a remarkable feat which saw him risk his life to rescue a four-year old boy who was hanging from a fourth storey balcony, while horrified onlookers watched.
Spider-Man
"On Saturday night Mamoudou Gassama performed what everyone is France is describing as an act of extreme bravery," says euronews correspondent Anelise Borges. For the residents of the working-class 18th district, Gassama is a real hero.
"When I come out and I look up there and I get the chills. He simply decided to go up… he climbed all the way to the 4th floor and when he reached the kid he grabbed the kid and placed the little one with him on the balcony. When we realized the child was safe we all started clapping and congratulating him because what he did… honestly… it was unbelievable," explained eyewitness Cissokho Goundo.
Mamoudou Gassama is now a symbol of hope and courage in a country that had been longing for new heros.