Surprise new meeting between North and South Korean leaders
Comments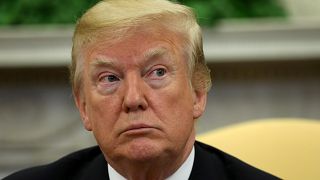 South Korean President Moon Jae-in met North Korean leader Kim Jong Un on Saturday to discuss Kim's possible upcoming summit with U.S. President Donald Trump.
Moon and Kim met just north of the heavily militarised border in the afternoon to exchange views to pave way for a summit between North Korea and the United States, South Korea's presidential office said.
Earlier US President Donald Trump had said that his administration was in talks with North Korea about rescheduling a meeting — just one day after cancelling the planned Singapore summit.
"We are having very productive talks about reinstating the Summit which, if it does happen, will likely remain in Singapore on the same date, June 12th., and, if necessary, will be extended beyond that date," Trump said in a Twitter post.
In response, South Korea's presidential spokesman said: "We are cautiously optimistic that hope is still alive for US-North Korea dialogue. We are continuing to watch developments carefully."
Trump blamed the cancellation on "tremendous anger" from North Korea, saying the rogue nation had "lost a great opportunity for lasting peace".
But the White House has since been favourably impressed by a conciliatory statement from Pyongyang saying it remained open to talks.
"It was a very nice statement they put out," Trump told reporters at the White House. "We'll see what happens - it could even be the 12th.
"We're talking to them now. They very much want to do it. We'd like to do it."
US regional allies said they regretted Trump's decision and urged the two countries to find an agreement.
Speaking from an economic forum in St. Petersburg, Russia, Chinese Vice President Wang Qishan said the summit was necessary to ensure peace in the Korean peninsula.
Last Thursday, Trump issued a letter to Kim canceling the anticipated summit due to North Korea's threats to pull out over remarks made by US officials demanding unilateral disarmament from Pyongyang.