Kilauea lava streams into Pacific Ocean
Comments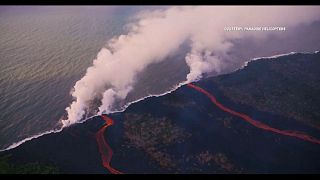 Lava is still gushing out of Hawaii's Kilauea volcano four days after its latest eruption, and has reached as far as the Pacific Ocean.
Six huge fissures sent rivers of molten rock through a blackened, volcanic wilderness that was once jungle, farmland and rural homes.
Kilauea, one of the world's most active volcanoes, entered the fourth week of what may be an unprecedented, simultaneous eruption at its summit crater and along a 9.7km string of fissures 40 km down its east flank.
Geologists say the volcano has now entered a "steady state" of eruption.
While a roughly 26-sq-km area of the Puna district has been ravaged, authorities stressed the eruption was having limited effects on the island that is a major tourist destination.