Trump casts doubt on planned summit with North Korean leader
Comments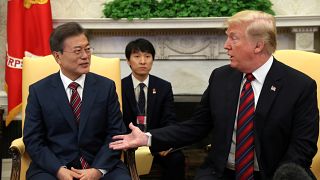 Copyright

REUTERS/KEVIN LAMARQUE
US President Donald Trump said during a meeting on Tuesday with South Korean President Moon Jae-in that there was a "substantial chance" the summit with North Korean leader Kim Jong-un might not take place on June 12 as planned amid concerns that Kim is not committed to denuclearisation.
"If it doesn't happen, maybe it will happen later," said Trump. "It may not work out for June 12."
Trump's comments come after a change of tone from North Korea last week when Pyongyang suggested the summit could be canceled it is was pushed towards "unilateral nuclear abandonment".
Last week, North Korea condemned the last US-South Korea air combat drills and suspended talks with the South.
The US president said that whether the meeting will be held will be determined "pretty soon". 
The purpose of the South Korean leader's visit to Washington was to fine-tune Trump's meeting with Kim this summer but now Moon is urging Trump to not let a rare opportunity to meet with the North Korean leader slip away. 
However, Moon remained optimistic about the summit. According to Reuters, his national security adviser Chung Eui-young told reporters that he believed there was a "99.9 percent chance" that Trump would meet Kim as planned.