Russian billionaire tycoon with ties to Putin left waiting for UK visa
Comments
By Alastair Jamieson and Reuters and The Associated Press with NBC News World News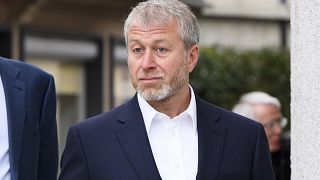 -
LONDON — The billionaire Russian owner of England's Chelsea soccer club, named by the U.S. as a crony of Vladimir Putin, has not has his visa renewed by British authorities.
Oligarch Roman Abramovich missed his Premier League team's 1-0 win over Manchester United in Saturday's FA Cup Final because he cannot enter the country, Russian site The Bell reported.
It comes amid strained relations between Russia and Britain following the poisoning of former Russian double-agent Sergei Skripal in Britain in March, an act Britain has blamed on Russia but in which the Kremlin denies any involvement.
Abramovich is in the process of renewing his visa after it expired last month but it is taking longer than usual, Reuters and the Associated Press reported Monday, both citing sources close to the tycoon who were anonymous because they were not authorized to speak to reporters.
His Moscow-based spokesman, John Mann, told NBC News: "We're not commenting on it as it's a personal matter."
British Prime Minister Theresa May's spokesman said the government would not comment on why Abramovich's visa had yet to be renewed, but explained that more stringent checks were being carried out on all applicants for investor visas to make sure funds "had not been obtained unlawfully."
In January, the Treasury Department included him on a list of Russian tycoons and politicians who are close to the Russian president and could be the target of future sanctions. Abramovich is reportedly also a friend of President Donald Trump's daughter, Ivanka, and her husband Jared Kushner.
Abramovich, who owns Russia's largest steelmaker, Evraz, as well as luxury homes in London and France, made his fortune in the 1990s when former Soviet state assets were sold off to private investors. Forbes estimates his wealth at about $10.8 billion, making him the 140th richest person in the world.
It came on the same day that a committee of British lawmakers said the government should show "stronger political leadership" over Russian "dirty money" flowing through the U.K.
Tom Tugendhat, chairman of U.K. parliament's Foreign Affairs Committee, said: "There is no excuse for the U.K. to turn a blind eye as President Putin's kleptocrats and human rights abusers use money laundered through London to corrupt our friends, weaken our alliances, and erode faith in our institutions."
"We are determined to drive dirty money and the money launderers out of the U.K.," May's spokesman said.
Britain's Home Office, which deals with immigration, declined to comment on the Abramovich case.