Texas school gunman 'spared the lives of people he liked'
Comments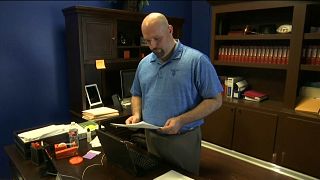 The Santa Fe high school gunman allegedly spared the lives of students he liked in the hopes they would tell his story.
Dimitrios Pagourtzis, who killed 10 people and wounded 13 after opening fire at the school on Friday morning, had allegedly planned to take his own life but instead surrendered to police after a brief shootout.
According to court papers, the 17-year-old student waived his right to remain silent and admitted carrying out the attack.
Nicholas Poehl, lawyer for Dmitrios Pagourtzis, says his family are mystified about his motives.
"They did not expect this. They don't feel that there were any red flags that they missed," he said. "I think that's echoed by the statements of the other students that have been speaking to the media, you know basically describing him as a pretty nice kid and a little quiet but otherwise not somebody they would expect to do something like this."
Eight students and two teachers were killed after the gunman opened fire at the High school south of Houston.
Authorities are still working to find out Pagourtzis' motive for carrying out the attack.