Italian government puts coalition deal to a public vote
Comments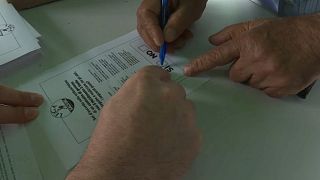 Italy's far-right League, led by Matteo Salvini, is giving Italians the chance to vote on the deal it has drawn up with the 5-Star Movement. It has organised an informal ballot as the two groups try to decide on a leader for their planned coalition government.
Salvani said he wanted to offer answers, not only to League supporters, but also to all the centre-right supporters who asked for less taxes and more security.
A lot of people turned out to vote in all squares where the League had set up kiosks, with volunteers reporting that people were well-informed and had read the details of the deal.
The document calls for billions of euros in tax cuts and increased welfare payments.
As for the 5 star movement, its supporters voted on Friday online. It had also set up kiosks to provide information and answer questions people may have.
Vittorio Emanuele Parsi, an expert in international relations, told Euronews what he believed would be the effect of a stable Italian government on the European Union.
"The European Union faces two types of risks. The risk that speculation will attack the Italian market which is a substantial market," he explains. "Or on the other hand, the opposite effect.
"If the alliance of these two groups, which have in common that they are profoundly anti-establishment and have an electorate deeply angry with the establishment, can manage to govern and not collapse, it could represent a useful model to be copied in other countries."