Today her prince will come: Meghan Markle set to wed Harry
Comments
By Rachel Elbaum and F. Brinley Bruton and Petra Cahill and Alastair Jamieson with NBC News World News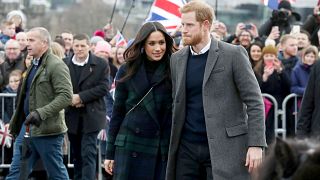 -
WINDSOR, England — Flag-waving crowds lined the streets at first light Saturday, hoping to glimpse American actress Meghan Markle and husband-to-be Prince Harry at the couple's royal wedding.
Around 100,000 people from around the world were expected in Windsor, a town with a population of around 31,000 about 20 miles west of London.
Viewing areas were set up with big screens so visitors could watch the nuptials, which were due to begin at noon local time (7 a.m. ET) in St. George's Chapel at Windsor Castle.
Around 600 guests were invited to attend the ceremony followed by a lunch reception hosted by Harry's grandmother, Queen Elizabeth II. Men were requested to wear a "uniform, morning coat or lounge suit," and women a "day dress with hat."
Among them are Markle's mother, Doria Ragland, who will drive her daughter to the chapel, but not Markle's father, Thomas Markle, who was to walk her down the aisle but was too sick to attend.
The couple also invited 2,640 members of the public — including local children and people who have shown leadership or served the community in some way — to spend the day in the castle grounds.
"They want to share their happiness with the public," said Roya Nikkhah, the royal correspondent for The Sunday Times. Markle, a California native and former actress, and the prince "want to be seen as open, not elitist, modern," she said.
Nonetheless, tradition is everywhere. The venue, 15th-century St. George's Chapel,features vaulted ceilings and stained-glass windows and is said to be one of the finest examples of Gothic architecture in England.
Harry's cousin, Princess Eugenie, is scheduled to get married at the chapel in October. Harry's uncle, Prince Edward, married Sophie Rhys-Jones there in 1999. And his first cousin Peter Phillips wed Autumn Kelly at the chapel in 2008.
Harry, who is sixth in line to the throne, was expected to wear a military uniform just as his brother, Prince William, did at Westminster Abbey when he wed the former Kate Middleton in April 2011. However, the designer of Markle's dress remained a tightly held secret early Saturday.
Around 250 members of the armed forces were scheduled to perform ceremonial duties at the wedding. Harry served in the army for 10 years and completed two tours in Afghanistan, rising to the rank of captain.
Markle will not have a maid of honor because, as the palace explained, she couldn't choose between her close friends. The couple have, however, chosen 10 bridesmaids and pageboys, including Harry's nephew, Prince George, and niece, Princess Charlotte.
After the wedding, the newlyweds will ride through Windsor in a carriage.
Police have spent months preparing for the wedding and will have around 3,000 officers on duty.
"On the processional route we put the vehicle barriers in place but we also put additional CCTV cameras in," Thames Valley Police Commander David Hardcastle, who is leading the security effort, said.
"It's the public and our officers and the stewards on the ground that are very much our eyes and ears, and who will be able to report back to us anything suspicious."
In the evening, a more intimate celebration with 200 guests will be hosted by Harry's father, Prince Charles, at Frogmore House, a royal residence built in the 17th century and around half a mile from Windsor Castle.
"We'll expect that to be slightly more raucous because it'll be private," NBC News royal expert Camilla Tominey said. "The royals will be a bit looser, a bit more relaxed. There will be the speeches and the dances and no doubt some fun and games because the couple are quite fun-loving."
In a nod to Markle's American roots, the couple's cake was made by an American baker based in London, Claire Ptak, who had previously appeared on Markle's lifestyle blog, The Tig. The ink used on the formal invitations was also from the U.S., and Bishop Michael Bruce Curry from Chicago will give the wedding address.
"There is a mixture of the modern and traditional in the way they are doing things," Tominey added.
Harry, 33, and Markle, 36, announced their engagement in November after dating for over a year.
The former star of the hit show "Suits," Markle is not the typical royal bride; she is bi-racial, divorced and three years older than Harry.
"When did I know she was the one?" Harry said to reporters when the engagement was announced. "The very first time we met."
Since then, they have toured the U.K., visiting cities in England, Scotland, Wales and Northern Ireland.
Though her royal role is just beginning, Markle has already been warmly embraced by the public — and not just figuratively: In a break with royal protocol, she often offers hugs to people she meets.
She has also been welcomed into royal circles, accompanying Harry to family functions including Christmas with the queen at her country retreat in Sandringham, Norfolk, and the Commonwealth Day ceremony at Westminster Abbey where she sat in the row behind the queen.
In the future, they are expected to continue Harry's charity work, much of which is done jointly with William and Kate, such as their Heads Together campaign promoting mental health. The two couples have been affectionately dubbed the "fab four" in British media.
Rachel Elbaum and Alastair Jamieson reported from London, and F. Brinley Bruton and Petra Cahill reported from Windsor, England.