20 evangelical priests among those killed in Cuban plane crash
Comments
By Kalhan Rosenblatt and The Associated Press with NBC News World News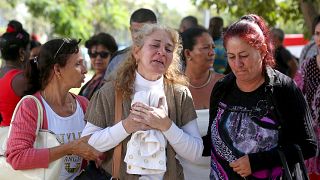 -
Twenty evangelical priests are among more than 100 people killed when a plane crashed outside of Havana on Friday, according to The Associated Press.
"On that plane were 10 couples of pastors. 20 people. All of the Nazarene Church in the eastern region," confirmed Maite Quesada, a member the Cuban Council of Churches.
The group spent several days at a meeting in the capital and were returning to their homes and places of worship in the province of Holguin.
On Saturday afternoon, the AP cited the Cuban transportation minister as saying that 113 people were killed in the accident.
Friday's crash, the worst in Cuba in nearly 30 years, happened at 12:08 p.m. ET, José Ramón Cabañas, the Cuban ambassador to the U.S., said on Twitter. After takeoff, the aircraft "rushed ashore" in an unpopulated area between the Boyeros and San Antonio de las Vegas areas of Havana, he tweeted.
Six crew members and a baby were also on board the flight, Cuban TV said.
On Saturday, flags flew at half-mast in Cuba, marking the start of two days of national mourning while authorities worked to identify the remains of those who died in the crash.
Distressed relatives of victims, most of whom are Cuban, cried and hugged one another outside the morgue, where they gave information on their loved ones to authorities to help the process of identification.
Three women survived the crash, but they were in critical condition, suffering burns and other trauma, the director of the hospital in Havana where they were being treated said on Saturday.
Calixto Garcia Hospital director Carlos Alberto Martinez said that doctors are always hopeful that their patients will recover, but acknowledged that the women are very seriously injured.
Cuban investigators were working the site of the crash, an agricultural area south of Havana, sifting through the burned wreckage for evidence, Cuban officials said.
Katherine Lucia Martinez, 18, whose grandmother died in the crash, burst into tears as she spoke about the accident.
Related
"This is a very unexpected death, she didn't deserve it, my grandmother was a strong person," Martinez said while clinging to her father.
Martinez was waiting with other relatives of the deceased at a Havana hotel for an update from the authorities.
"My daughter is 24," cried Beatriz Pantoja, whose daughter Leticia was on the plane. "My God, she's only 24!"
The majority of those on board were Cuban nationals, but Argentina said two of its citizens were among the dead. An unspecified number of Mexican nationals were also on board, the Mexican government said. A U.S. State Department official said the department was not aware of any U.S. citizens on board.