Around 100,000 people expected in Windsor
Comments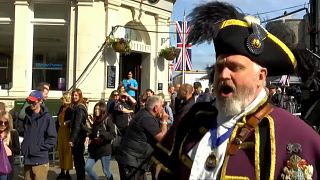 Britain's getting ready for the big event on Saturday as Prince Harry marries actress Meghan Markle at Windsor at mid-day.
Hundreds of excited people hoping for a glimpse of the bride during the carriage procession, are already in place.
Prince Charles will walk Meghan up the aisle from the quire, which is half way into the chapel, after she's entered with her 10 bridesmaids and page boys.
Royal fan staying over night in the town, says, "Yes, it's very unfortunate for Meghan that her Dad isn't going to be there. And of course, we wish him all the very best. But his health has to take priority. Whether it was her Mum or whether it was Prince Charles, I think it will be a good day anyway."
Prince Harry was greeted with shouts of "good-luck" as he and his best man Prince William popped out to see well-wishers outside Windsor castle.
Harry gave a thumbs up to keen fans.
Meghan, with her mother Doria Ragland, arrive at their hotel the night before the Royal wedding.
Security's tight as around a hundred thousand people are expected to flock to the quiet town of Windsor.
A police Commander say there's no known threat to the event.
There should be plenty of sunshine and warm temperatures for this happy occasion.