North Korea casts doubt over Trump summit
Comments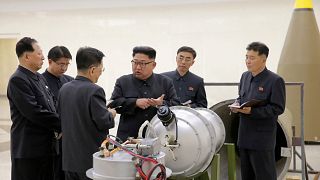 North Korea says it may pull out of a summit with President Donald Trump if the US insists it gives up nuclear weapons.
The warning comes after Pyongyang cancelled talks with the South in anger over its joint military exercises with the US. Its state run news agency said the drills were a provocation.
Trump is due to meet North Korean leader Kim Jong Un in Singapore on June 12.
The agency KCNA quoted foreign affairs minister Kim Kye Gwan casting doubt on the meeting.
"If the US is trying to drive us into a corner to force our unilateral nuclear abandonment, we will no longer be interested in such dialogue and cannot but reconsider our proceeding to the DPRK-US summit," the minister said, referring to the North's official name, the Democratic People's Republic of Korea.
He added that North Korea had already stated its intention to denuclearise the peninsula, making it clear that a precondition was to end the United States' "hostile policy and nuclear threats and blackmail".
The US State Department Spokesperson Heather Nauert had earlier played down concerns.
"What we have to go on is what Kim Jong Un has said before, that he understands and appreciates the importance to the United States of having these joint exercises, the Republic of Korea has as well."
Testing the water
Any cancellation of the June summit in Singapore due to either the scheduled military exercises or demands from Washington would deal a major blow to Trump's efforts to score the biggest diplomatic achievement of his presidency.
Some experts say Kim's latest move could be aimed at testing Trump's willingness to make concessions ahead of the summit, adding that threats and problems are to be expected.
US Secretary of State Mike Pompeo has said the US will agree to lift sanctions on Pyongyang if it agrees to dismantle its nuclear weapons programme completely. However, Kim Kye Gwan said North Korea would never give up its nuclear programme in exchange for economic trade with the United States.
The threat to pull out of the summit came hours after North Korea withdrew from talks with the South scheduled for Wednesday, because of US-South Korean military exercises.
Seoul described the North's decision as "regrettable". The South had said in March that the joint drills would continue, but this was before the surprise meeting last month between North and South leaders at the border.
An earlier state news agency report attacked the "Max Thunder" air combat drills, which it said involved US stealth fighters and B-52 bombers.
The North's foreign affairs minister singled out comments by Trump's national security adviser John Bolton, who has suggested a so-called Libya model under which Pyongyang would quickly hand over its nuclear arsenal to the United States or other countries.
"Our country is neither Libya nor Iraq which have met miserable fate," Kim Kye Gwan said as cited by KCNA.
President Trump has also repeatedly said he is ready to walk away from the summit, or even not go at all, if it looks like it will not deliver results.