Meeting Romania's top politician couldn't convince taxi driver to stay
Comments
By Cristian Gherasim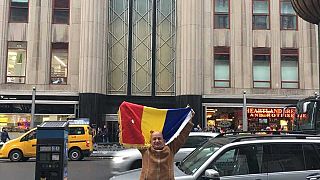 -
A taxi driver who met the leader of Romania's ruling party after challenging him on Facebook emigrated from the country three days later.
Bogdan Lungu promised on social media to deliver a crate of beer to Liviu Dragnea if the head of the Social-Democratic party could prove he wrote his own Facebook posts.
Dragnea played ball, sending over a selfie photo from his car and inviting the 43-year-taxi driver to bring over the drinks to the party headquarters in Bucharest. The pair duly met up, and sealed another bet, with Dragnea promising to put into service 150km of highway by 2020.
For Lungu, however, it wasn't enough. He told Euronews he had been planning to leave the country but wanted to see if meeting the country's most powerful politician could change his mind.
"I really wanted to talk to the person de facto running this country, to see if he can make me question my desire to leave Romania. I realized that things will get worse and I have to come up with a way out for the sake of my two children. The decision to leave the country was a hard one but meeting Mr Dragnea further convinced me it was the right one", he said.
Three days after the meeting he posted a Facebook photograph showing him holding a Romanian flag in front of the Empire State Building in New York City with the caption reading: "I left as promised". He went on to comment: "I don't believe I will ever come back to Romania."