Former Malaysia PM Anwar Ibrahim granted royal pardon
Comments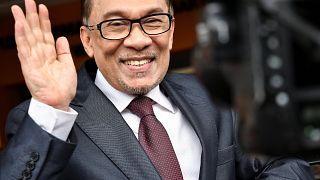 Jailed Malaysian leader Anwar Ibrahim was granted a full pardon on Wednesday and walked free out of a hospital in Kuala Lumpur where he has been undergoing treatment.
Smiling and waving to supporters, Anwar, 70, was wearing a black suit with a tie. He was surrounded by his family, lawyers and prison guards before getting into a car and driving to the palace for an audience with the king.
He was greeted at the palace by new Prime Minister Mahathir Mohamad, his ally-turned-foe-turned-ally, with whom he joined forces to oust scandal-tainted Najib Razak's administration in last week's election.
"The king, with the advice of the pardons board of the federal territories of Kuala Lumpur, Labuan and Putrajaya, has allowed a full pardon and given an immediate release for ... Anwar bin Ibrahim," said a statement issued by the palace.
Anwar, 70, serving a five year-sentence for sodomy, has been recovering from a shoulder injury in hospital under police guard.
Malaysian leader Anwar Ibrahim said on Wednesday that he would give full support to the government led by former rival Mahathir Mohamad, but would not immediately be part of it.
"I have given my assurance, I am here as a concerned citizen to give complete support to manage the country on the understanding that we are committed to the reform agenda, beginning with the judiciary, media and the entire apparatus," Anwar said in a news conference at his home after he was freed from custody.