European Union looks at options for tackling US sanctions
Comments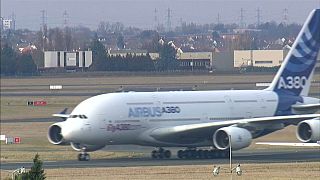 The European Union is reviewing its options after President Donald Trump's threats to impose sanctions on companies doing business with Iran.
The US measures jeopardise more than 20 billion euros of annual trade - and big contracts for European companies.
More importantly, they put at risk the economic benefits to Tehran that are keeping the nuclear deal alive.
The EU does have a few options:
The bloc could complain to the World Trade Organisation, but WTO disputes normally take a while.
With the entire US banking and financial system out of bounds, the EU could allow the European Investment Bank to operate in Iran.
It could pay for Iranian oil in euros instead of dollars. Several Iranian officials have told Reuters that as long as Iran gets its money, the deal would remain alive.
Finally, it could just ignore the US threats.
Europe has been here before - most notably when Bill Clinton introduced extra-territorial Cuba sanctions in 1996.
There is much at stake.
The EU is Iran's third top trade partner after China and the United Arab Emirates
For the EU, Iran is currently its 33rd largest trade partner.