Blood donor who saved millions of babies' lives gives last donation
Comments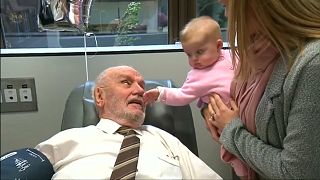 Australian James Harrison is special. He is no doctor, but he has saved, says the Australian Red Cross, more than two million babies' lives.
Over six decades he has given blood 1173 times, but at 81, this is his last donation, and it drew quite a crowd.
Harrison has an antibody in his blood that is used to make the lifesaving medication Anti-D, which is given to pregnant mothers whose blood is at risk of attacking their unborn babies.
He is known as the "Man with the Golden Arm" because of his life-saving blood.
"If it wasn't for him, you know, she wouldn't be here", said one proud father, cradling his daughter.
Harrison is in the Guiness Book of Records and has been awarded one of Australia's top civilian honours, but one senses his real reward comes when overjoyed parents let him play with their children, rosy-cheeked, healthy, and most importantly, alive because of him.