Mixed reaction over Catalonia's new President
Comments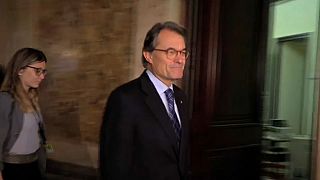 The election of Quim Torra as regional leader for Catalonia, has a mixed reaction.
Torra is a former lawyer and publisher with little political experience.
He has the support of the Republican Left and the anti-capitalist CUP party.
But some believe he's a puppet for Puigdemont.
Inés Arrimadas, leader of the opposition party Ciudadanos says, "It is a very sad day, it has elected a President of Catalonia who is a person that defends nationalist ideology, who argues that Catalonia is only for those who feel Catalan, who thinks it's unnatural to speak in Spanish in Catalonia... and I think this man has no intention of having any dialogue, he has reaffirmed Puigdemont's arguments and wants to take them further. We have an updated Puigdemont but who is a nationalist, excluding, identity and xenophobic ideology in his articles."
Torra says his government would work in order to "build an independent state in the form of a Republic".
Gabriel Rufián Esquerra Republicana Catalunya (ERC) MP at Spanish Parliament says, "Above all, we are satisfied with the end of this 'Sword of Damocles', the article 155, and with the start of governing here, always respecting that the legitimate government is outside in exile".
Spain's Prime Minister Mariano Rajoy has offered talks with Mr Torra.
Our reporter, Cristina Giner says, "Esquerra Republicana and Junts per Catalunya will share regional ministry offices at the new Government, yet we will see if the wounds opened during the last term and the divergence of strategies before the Spanish justice takes its toll on the new Executive".