Toy is a song about empowerment, says Eurovision winner
Comments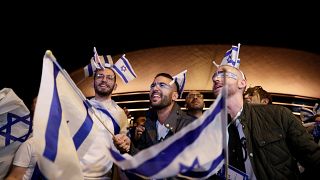 Netta's supporters celebrated not only her Eurovision win but the message behind the victory.
The Israeli singer described her song as one of empowerment, wrapped in a heavy vibe. 
Speaking after her victory she said she was amazed, happy and honoured to win: "Women this year are searching and finding their voices and this is amazing. This is an empowerment song for women, for everybody. Everybody can find something in it."
Her supporters were brimming with joy: "She's the best, really," said one. "So different, from the first second I saw her, I said: wow."
Another Netta supporter said: "We really, really love the song and we really love the message of the song. You can be whoever you are, whenever you are, just be yourself. It's a pure message and it's a powerful one."
The 63rd edition of the song contest was hosted in the Portuguese capital Lisbon featuring 26 countries and watched by an audience of some 200 million.
The night was marked by a stage invader who interrupted the performance of the UK entrant Surie.
The assailant grabbed her microphone but was quickly apprehended.
SuRie was given the chance to perform again, but declined. The UK finished 24th, two places ahead of the hosts.