Racism in UK more normalised since Brexit vote: UN report
Comments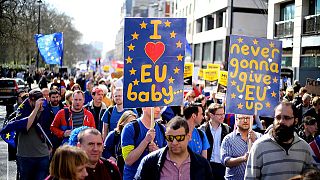 -
Racist rhetoric is becoming increasingly normalised in Britain following the country's decision to leave the European Union, a United Nations rapporteur warned on Friday.
"A Brexit-related trend that threatens racial equality in the UK has been the growth in the acceptability of explicit racial, ethnic and religious intolerance," Tendayi Achiume, the UN special rapporteur on racism, said.
Achiume noted that although far-right parties have not made similar gains in the UK as they have across Europe, British political leaders' failure to "consistently and unequivocally condemn anti-Semitism and Islamophobia perpetrated in the media, in public spaces and even by members of the UK parliament" has led to racist discourse becoming more widespread and normalised.
She also highlighted the rise in hate crimes since the UK voted to leave the European Union in June 2016.
According to official statistics, there were over 80,000 hate crimes reported by police in 2016/2017, a 29% jump on the previous year.
"The harsh reality is race, ethnicity, religion gender, disability status and related categories all continue to determine the life chances and wellbeing of people in Britain in ways that are unacceptable and in many cases unlawful," she said.
Speaking at the end of a 11-day visit to the UK which coincided with the Windrush scandal — in which people of Caribbean origin who had been legally living in the UK for decades were threatened with deportation — Achiume also called on the UK government to address its "hostile environment" towards migrants.
She particularly criticised the government's decision to outsource immigration enforcement to private citizens and public service providers.
On a more positive note, she commended Prime Minister theresa May for commissioning the Racial Disparity Audit in 2016, which highlighted stak disadvantages for ethnic minorities.
In a statement, a government spokesperson said the UK had " made great progress."
"The prime minister is clear that if there is no rational explanation for ethnic disparities, then we – as a society – must take action to change them. That is precisely what we will do," the statement added.