We've found the world's deepest plastic bag, say scientists
Comments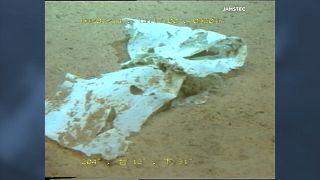 Scientists say the world's deepest plastic bag has been found in the Pacific Ocean.
Divers located it lying 10,898 metres down in Mariana Trench in the western Pacific, according to a study published in the journal Marine Policy. 
"The influence of land-based human activities has reached the deepest parts of the ocean in areas more than 1,000km from the mainland," the paper said.
During 5,010 dives made since 1983, 3,425 items of rubbish were counted and added to a public database managed by the Japan Agency for Marine-Earth Science and Technology (JAMSTEC) in Yokosuka. 
Over a third of the recovered debris was macro-plastic — such as plastic bags, plastic bottles, fishing nets and styrofoam — of which 89% were single-use products.
"The frequent occurrence and widespread distribution of plastic debris in the deep sea, far away from populated coastal areas, indicate that large numbers of plastic debris pieces are distributed throughout the water column and in the high seas," the study continued.
But as divers ventured deeper than 6,000m into ocean waters, more than half of the debris found was plastic.
"Plastic is estimated to potentially remain for hundreds to thousands of years once they are deposited in the deep sea where there is no UV light and less turbulence," the study read.
"Minimising the production of plastic waste and its flow into the coastal areas and the ocean is the only fundamental solution to the problem of deep-sea plastic pollution."
The paper's findings come weeks after a separate study revealed that the Great Pacific Garbage Dump, a 79,000 tonne mass of plastic debris stretching from California to Hawaii, was four to 16 times bigger than previously thought and was growing rapidly.