Magnus Carlsen plays the world versus 15 event was held at the UN HQ
Comments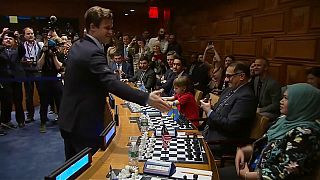 Fifteen chess players had the opportunity of playing against a grandmaster in New York.
'Magnus Carlsen plays the world versus 15 event' was held at the United Nations Head Quarters.
The 27 year old Norwegian played fast against a wide age range from an 8 year old to a 66 year old.
American 9 year old Jed Sloan was the last one at the end who was still playing against Magnus.