The technology behind the films at Cannes
Comments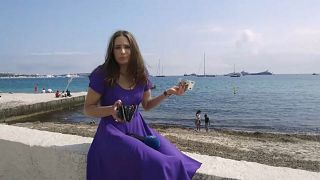 Cannes is, of course, all about movies; the stars, the stories and the fantasy worlds projected onscreen. However it is THE festival for the movie business, with much behind-the-scenes scrambling and pitching from hungry production companies raising finance for their latest projects.
Perhaps dazzled by the glamour, it is something the public appreciates perhaps less than the glitz, but it underpins everything, and is little-understood, as Belle Donati found out.
"Finding the money to make a movie is often the hardest part of filmmaking, especially if you're starting out. When streaming services like Netflix and Amazon moved into production and distribution, their aim was to open up what, to many, seemed a closed shop."
Now new technologies are going even further…
"In today's world you can stream a movie across the world in a matter of seconds but it can take you a year to see your first dollar, if in fact you earn that dollar. First and foremost we want to re-stimulate investment in film - you can actually see where you viewership is improving or decreasing, you can actually see where your marketing efforts are effective or not effective," says the V.P. of Finance & Development at SingularDTV, Daniel Hyman.
All this, through 'blockchain', a shared digital ledger of financial transactions, that can be programmed to record virtually anything.
Simply put: the money from viewers who use blockchain to watch a film online goes directly - and instantly - to the filmmaker.
It's not just distribution that's getting a re-boot... the way you watch films is also being transformed by technology.
"Thanks to artificial intelligence and virtual reality we can change the way we understand narrative because you can follow a story through its different characters. But as a viewer, you can also change the way the actual story evolves," says VR Producer at Digital Rise, (DV Group), Framcois Klein.
So what tempts a conventional film director to move into virtual reality?
Gaelle Mourre is the director of 'The Android'.
"It's new, and I think there's an infinite of possibilites to be explored which is incredibly exciting. I think also what's great is 'The Android' and interactive projects generally tend to mirror a form of reality. So example in 'The Android' you don't realise when you're making a choice. And that's like life, you have no idea when your actions will impact your life and your trajectory," she says.
Cannes is still getting its head around Netflix doing away with traditional cinematic releases. For now, it's difficult to see how it might react to these even more radical and disruptive technologies.