Syria accuses Israel of missile strike
Comments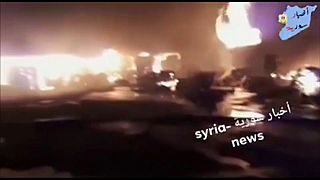 Syrian state media accused Israel of launching missiles at a target near Damascus on Tuesday, shortly after U.S. President Donald Trump announced he was quitting the Iranian nuclear deal, a move that had prompted Israel to go on high alert.
The Israeli military said that, upon identifying "irregular activity" by Iranian forces in Syria, it instructed civic authorities on the Golan Heights to ready bomb shelters, deployed new defences and mobilised some reservist forces.
Israel's top general, Gadi Eizenkott, cancelled a scheduled appearance at an annual security conference and was conferring with Defence Minister Avigdor Lieberman and other national security chiefs, officials said.
Trump's hard tack against the nuclear deal, while welcomed by Israel, has stirred fears of a possible regional flare-up.
Within two hours of the White House announcement, Syrian state news agency SANA reported explosions in Kisweh, south of Damascus. Syrian air defences fired at two Israeli missiles, destroying both, SANA said.
A commander in the regional alliance supporting Syrian President Bashar al-Assad told Reuters that Israel's air force had struck an army base at Kisweh without causing casualties.
Asked about those statements, an Israeli military spokeswoman said: "We do not respond to such foreign reports."