Donald Tusk on two-day visit to Slovenia
Comments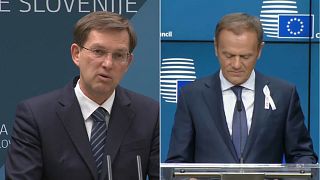 EU Council President Donald Tusk has told Slovenia's Prime Minister Miro Cerar that he believes his country has turned into a "success story".
Tusk's comments came at the start of a two-day visit,
Taking to social media, Tusk praised Cerar as a responsible European adding that Slovenia had never given up on the idea that its future is with the EU. And that it will continue to play an important part in coordinating EU action in the region.
Tusk is in the country ahead of an EU summit featuring Western Balkan leaders who are becoming impatient for a clear decision on whether they will be fully integrated into the bloc.
The EU is keen to keep the region on board over issues such as migration and security.