Lebron James masterclass sinks Toronto Raptors
Comments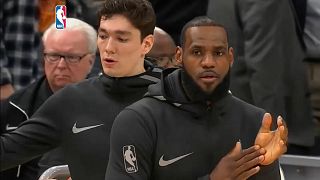 LeBron James banked in a running floater as time expired to cap off a 38-point effort, and the Cleveland Cavaliers took a commanding 3-0 series lead with a dramatic 105-103 victory over the visiting Toronto Raptors on Saturday night at Quicken Loans Arena.
Kevin Love recorded 21 points and 16 rebounds as fourth-seeded Cleveland defeated Toronto for the ninth straight time during the postseason. Kyle Korver made four 3-pointers while scoring 18 points, George Hill had 12 points and Jeff Green tallied 11 for the Cavaliers.
Kyle Lowry had 27 points and seven assists for the top-seeded Raptors, who are one defeat away from being eliminated by Cleveland in the playoffs for the third straight season. Sidekick DeMar DeRozan had an off night with just eight points on 3-of-12 shooting and didn't play in the final quarter.
Game 4 of the Eastern Conference semifinal series is Monday in Cleveland.
On the decisive play, James received the inbounds pass with eight seconds left under the opposite basket. He drove the length of the floor, headed slightly to the left of the lane and smoothly kissed the midrange jumper off the glass.
"Tie game, down 1 or whatever the case may be, I live for those moments," James said. "Like I told y'all in the Indiana series, that mental clock of being a kid and kind of telling myself, '3, 2, 1' and making the noise of the net, that 'woosh' sound, I've been doing that since I was 6, 7, 8 years old. Maybe even before that."
James added seven assists, six rebounds and three steals in his latest stellar effort.