Nikol Pashinyan calls an end to protests
Comments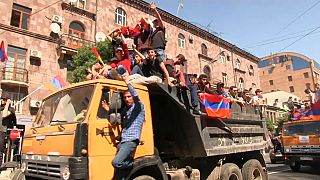 The leader of the protest movement that has rocked Armenia has called a pause in the campaign of civil disobedience while he seeks assurances that the ruling party will back him to be the next prime minister.
After a day of protests that brought parts of the country to a standstill, a senior official with the ruling party hinted it might be willing to back Nikol Pashinyan.
The Opposition Leader told the crowd he needed to be certain it was not a trick.
And he told his supporters that if the talks did not go to plan, he would call them back out on to the streets.
The re-run of the vote is scheduled to take place on May 8.