Macron's faux pas after calling Australian leader's wife 'delicious'
Comments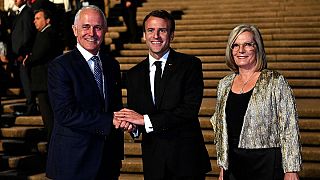 Emmanuel Macron's level of English is unrivalled in comparison to his presidential predecessors. But his high standards seemingly slipped during a visit to Australia.
French President Macron made a gaffe when he was talking about the wife of Australian Prime Minister Malcolm Turnbull.
He described Lucy Hughes Turnbull as 'delicious', sparking bewilderment from those at the press conference.
After thanking the Turnbulls for the food and wine, he added: "I want to thank you for your welcome, you and your delicious wife for the warm welcome."
'Delicious' in English is generally only used to describe something that tastes good, normally food. When speaking about a person, it's more normal to say 'delightful'.
The French use délicieux or délicieuse to describe a nice person, in contrast to their neighbours over the Channel.
Such errors are known by linguists as false friends: words that sound similar but which have different meanings.
Macron's visit to Australia, only the second by a French president, comes amid heightened tensions in the Pacific where France has numerous interests.
France has five island territories spanning the Indo-Pacific: Reunion and Mayotte in the Indian Ocean, and Noumea, Wallis and Futuna and French Polynesia in the Pacific.
Australia and New Zealand have each separately warned China is seeking to exert influence in the Pacific through its international aid programme, an allegation Beijing denies.
While not naming China, Macron said France will increase its influence in the region to ensure "rules-based development".
"It's to preserve necessary balances in the region. And it's important with this - precisely this new context not to have any hegemony in the region."