House of Lords gives Commons Brexit-blocking powers
Comments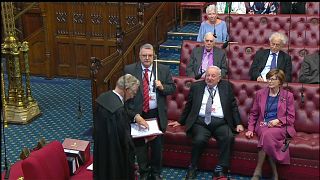 Britain's upper house on Monday voted to give parliament powers to block or delay a final deal on departure from the European Union, defeating Prime Minister Theresa May's government.
The House of Lords voted 335 to 244 in favour of an amendment to May's Brexit blueprint that could allow parliament to send ministers back to the negotiating table in Brussels or even halt the Brexit process if it disapproved of the final deal.
The result had been expected, and is the seventh time in recent weeks that the government has been defeated in the Lords on the legislation that will formally terminate Britain's EU membership.
The Lords amendments to the European Union (Withdrawal) Bill have been criticised by the government and can be overturned in the lower house, where May has a working majority, albeit a slim one.
Meanwhile, the EU's chief Brexit negotiator Michel Barnier said he was confident Brussels and London can agree on the right solution for avoiding the return of a hard border between Ireland and Northern Ireland and that they were prepared to work "day and night" to reach an agreement.
"We are not yet there, and to be clear, not only because of the Irish and Northern Ireland problem, but also for the governance of the treaty, we are not there yet and there is a real risk and we have to be prepared to any options, including no deal."