Fire engulfs building site of new Egypt Museum
Comments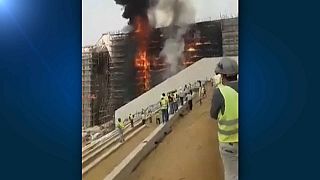 Fire has engulfed the building site of the new Egyptian museum in Giza.
At least 10 fire engines were sent to the scene to extinguish the blaze.
The new Grand Egyptian Museum is located near the famed pyramids
It will house some of Egypt's most unique and precious artifacts, including many belonging to the famed boy King Tutankhamun.
In January, Egypt placed the ancient statue of one of its most famous pharaohs, Ramses II, in the entrance hall.